Lemon Blueberry Dutch Baby Pancake
This lemon blueberry baked dutch baby pancake recipe is simply delicious. A combination of sweet and tart with an oven-baked spin on a stovetop favorite.
The links in this post may be affiliate links.  That means that if you click them and make a purchase, this site makes a commission.  It will have no impact on the price you pay or the experience of your purchase.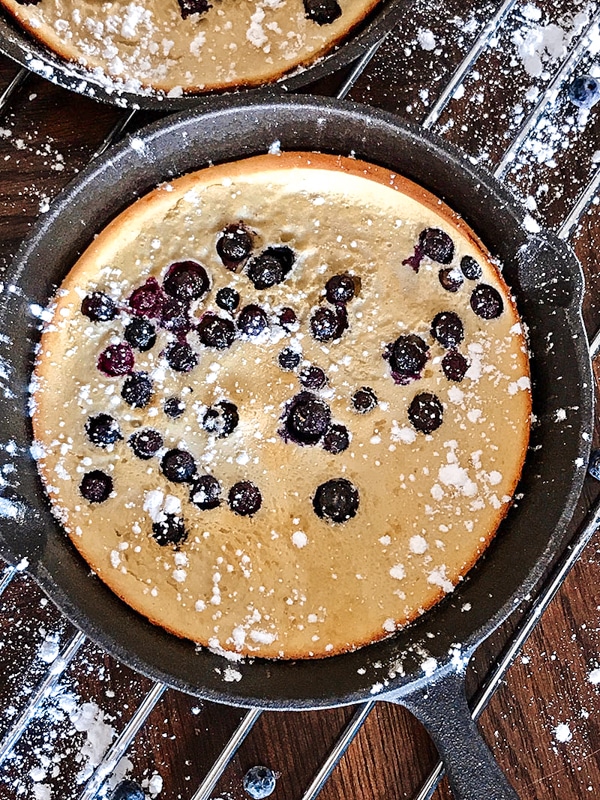 Y'all know how much I love breakfast right? And pancakes? And the only thing that makes them better is when you can cook enough for everyone all at once and in less time than it takes to say "I'm hungry".
I lived a lot of years before I knew a baked pancake was even a thing. As much as I love pancakes, I do not know how this secret was kept.
But lucky for you, I am not the keeper of food secrets. The secret of the Lemon Blueberry Dutch Baby Pancake is absolutely NOT safe with me. Sorry, not sorry!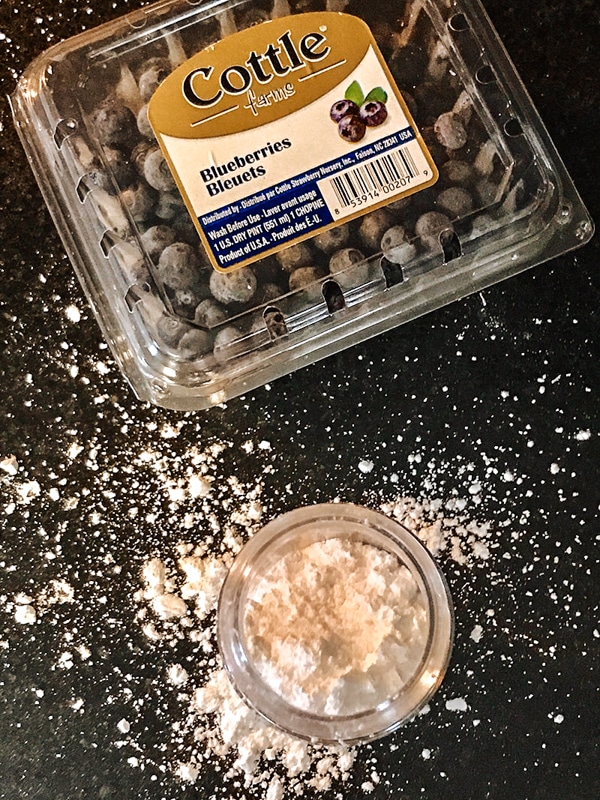 Ingredients Need For Lemon Blueberry Dutch Baby
eggs
milk
flour
sugar
lemon flavoring
salt
unsalted butter
blueberries
confectioners' sugar
How To Make A Dutch Baby Pancake
Start out by preheating the oven to 400 degrees. And placing the skillet in the oven to melt the butter and warm the skillet.
Blend together the eggs, milk, flour, granulated sugar, lemon flavor, and salt in a blender.
Put your berries in the skillet, after heating it with butter.
The batter is thin and added to a hot skillet and placed in an even hotter over. It gets poured into the skillet, all at once, over the berries, before being put in the oven.
Before long, the batter puffs around the edges of the skillet. It continues to do this until it resembles a lumpy, but super soft pillow.
It is ready once the edges turn a nice, almost crispy, golden brown. The sweet smell will permeate the air throughout your kitchen, and beyond. All of those things combined is how you know it's ready.
When you pull it out of the oven, the Dutch baby will seemingly collapse. And while normally things collapsing is a problem, this is a sign of greatness. Because you are left with the most amazing, but easy, version of a pancake your stomach and tastebuds will ever know!
Top with a few leftover fresh berries and some confectioners sugar.
Cut it up however you see fit and enjoy it drizzled with some delicious maple syrup or even some homemade butter syrup!
Can I Make Individual Dutch babies?
This can be made with small 6-inch cast-iron skillets, or you can do it in a larger skillet and cut it into slices. Or even just dive in with a fork, leaving every man for themselves.
Pro Tips or Making Your Lemon Blueberry Dutch Baby Pancake
Do not try to hand mix the batter. Use a blender or immersion blender to make a well-blended batter that is not lumpy.
Allow the batter to sit for a few minutes before you pour it to let the flour fully absorb the liquid and help it to cook more evenly.
Heat the skillet before you pour in the batter to help it to puff up and give you beautifully soft, but crispy, edges.
Putting the fruit in the skillet first, before pouring the batter, will allow it to rise more beautifully.
Pin The Lemon Blueberry Dutch Baby Pancake For Later
Other Pancake Recipes You May Love: