Why I Chose Slate Appliances Over Stainless Steel
When it came time to purchase appliances I knew slate appliances were my choice hands down!
The links in this post may be affiliate links.  That means that if you click them and make a purchase, this site makes a commission.  It will have no impact on the price you pay or the experience of your purchase.
It's hard to believe that we have been in our house for a full year now.  Time flies when you are having fun right?
As I sit here looking at all the work that we have done in the house, particularly the kitchen I am truly amazed.
It is a reminder to stay open and flexible when you have ideas. But know what to be flexible on.
For me in my kitchen the two things I knew off the top as my non-negotiables were:
I had to have slate appliances
The color of my cabinets had to be in the gray family
I also wanted to do wood butcher block countertops, but because we could not do them before we moved in, I had to create another alternative idea.  Now that the madness is over, I am super happy with the decision to paint my countertops.
I love the way it accents my gray cabinets, and now the other components that have been added.
Altogether the cabinets, appliances, and countertops flow very well.
Are Slate Appliances Easy To Clean?
Slate appliances are sleek and stylish like stainless steel, but without being high maintenance.
While the handles are still stainless steel and require regular cleaning, the surface does not show every time someone has touched the fridge.  And with little fingers in the house, I appreciate this more than you will ever know.
Additionally, slate appliances do not require any special or fancy cleaners to clean them.  I typically just wipe them down with a damp rag and they are as beautiful as the day we first got them!
Is Slate The New Stainless Steel?
I think that slate is a great alternative for people who don't like the maintenance that comes with stainless steel.
I always felt like I couldn't keep my appliances clean in the old house.  And I hated that I had to buy a special cleaner to even get it clean.
I feel like it offers the same durability and sleek look as stainless, and also has a warmer feel with the brownish color.
What Makes Smudge-Proof Stainless Steel?
Unlike stainless steel, the slate appliances have a matte finish that helps them to resist or at least now show fingerprints easily.
It is engineered for durability and versatility, while still being stylish and beautifully modern.
Why I Chose Slate Appliances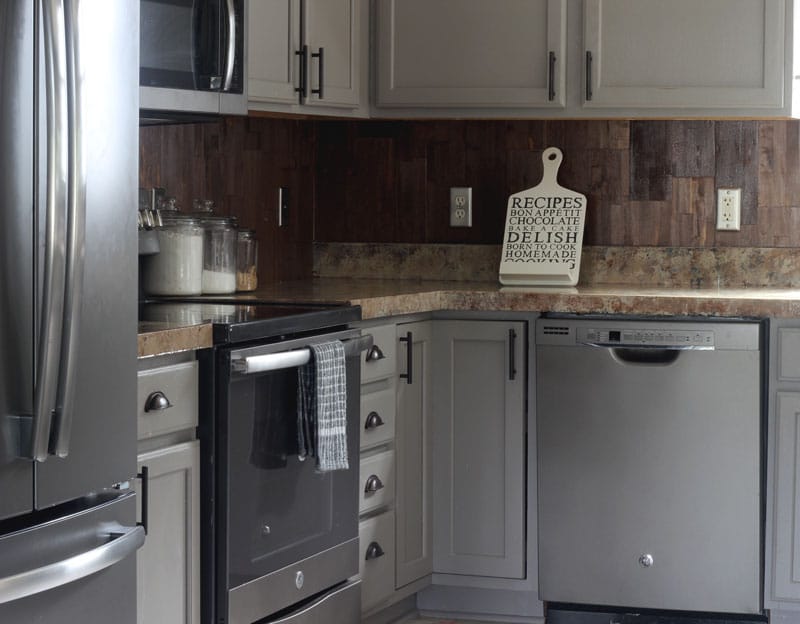 For all the reasons listed above, it only made sense.  I strongly recommend slate appliances as an alternative to stainless steel especially if you are a family with young children.
They are modern and functional and really that sums up just about everything I need in my life these days.
And now that RJ is old enough to go in the fridge for his snacks and drinks by himself, and the teen is the regular operator of the dishwasher, it saves to time and energy from having to obsessively clean my kitchen.
I went with the following slate appliances:
The following links are affiliate links
Are you looking to buy appliances soon?  If so, have you looked at slate as an option?