If you're stuck with ugly countertops. don't want to break the bank, and don't know what to do to fix it, I've got a solution for you!
What if I told you that you can get new countertops, without well, buying new countertops?
Let me explain….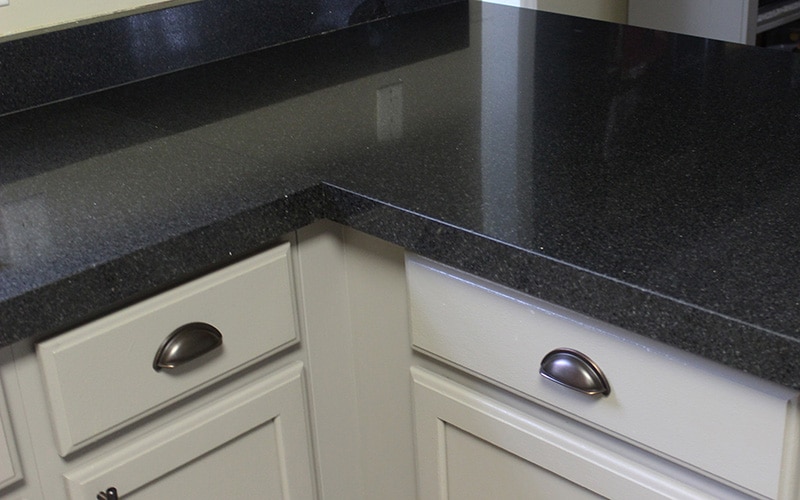 You can makeover your old countertops and make them new using Giani Granite.
This post is sponsored by Giani Granite. I was provided the Countertop Paint Kit in order to share with you the process and the outcome.
To learn more about what that means click here.
Yup! You can do it. And the best part is it won't take a bunch of time AND it won't take a bunch of money either!
Giani Granite is a DIY countertop makeover solution.
What Types of Countertops Can Giani Granite Be Used On?
Despite its name, it is not only made for use on granite. Below I have listed what Giani Granite can be used on separated into groupings for preparation. When you continue reading you will see that preparation is different for each material depending on what group it is in.
Group 1
Wood
Metal
Marble
Group 3
Formica
Laminate
Primed Plastic
With Giani Granite countertop paint you can give your countertops a new, fresh makeover in 3 days or less, with 3 very easy steps.
Now let me say that is NOT including the prep work. So let's start with that, right after I give you the additional materials list.
Materials Needed
I used the Giani Granite Chocolate Brown kit, there are several others that you can choose from. I have linked them here.
All other materials needed are included in the Giani Kit.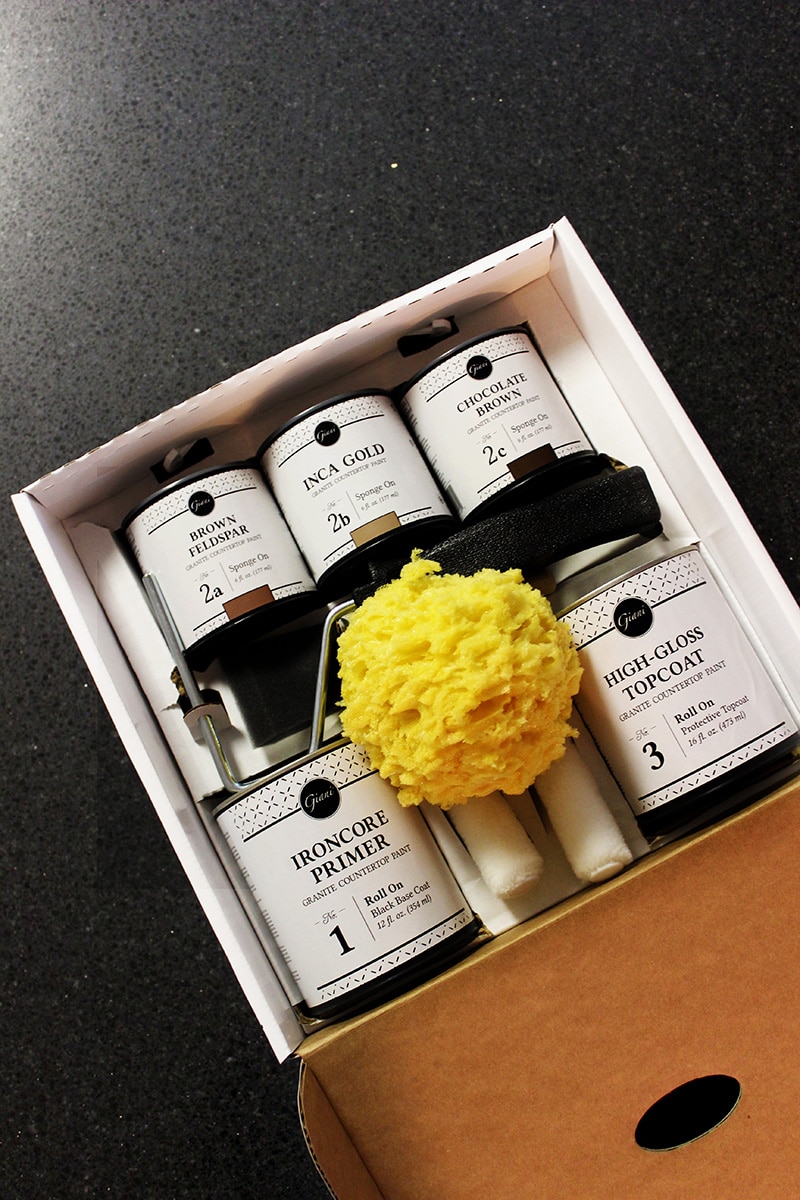 Prepping Your Countertops For Your DIY Makeover
The prep work varies based on the material group listed above. Read through the instructions for the group that applies to your countertop material.
Group one materials
Degloss with a #600 grit sandpaper. Clean with a damp cloth without any additional cleaners.
For unsealed wood, it is recommended that you apply a good wood primer using a foam roller to ensure no texture is added to the surface and allow for a smooth finish when complete.
Continue with instructions for all groups.
Group two materials
Granite and concrete that are fully cured require that you clean the surface with xylene or lacquer thinner. Following the instructions for use of the product that you are using.
Once complete, wipe the surface with rubbing alcohol to ensure any wax or sealer is removed.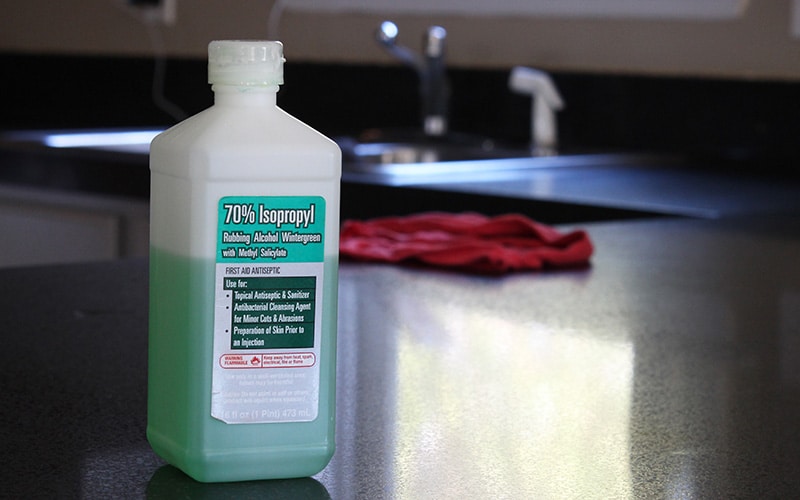 Continue with instructions for all groups.
All groups
Remove all caulking with a box cutter and clean any residue left behind with rubbing alcohol.
Use a Brillo or SOS pad to remove all grease and dirt. Clean using only water, at least two times, to fully clean countertops.
Patch any deep nicks and scratches with wood filler. Once the wood filler is dry, sand the wood patch with a #600 fine grit sandpaper. Wipe the dirt and residue with a damp cloth. No cleaners!
Tape the edges of your work surface to prevent overpainting and making a mess on unintended spaces. Cover cabinets to prevent spills.
Now that we got the prep work out of the way, on to the three easy steps.
How To Makeover Your Countertops
Using Giani Granite Countertop Kit
DIY Granite Countertops Step 1

Prime
In this step, you use the provided rollers and primer to thoroughly cover the countertops.
Materials for each step are labeled accordingly.
Shake the primer can well before opening.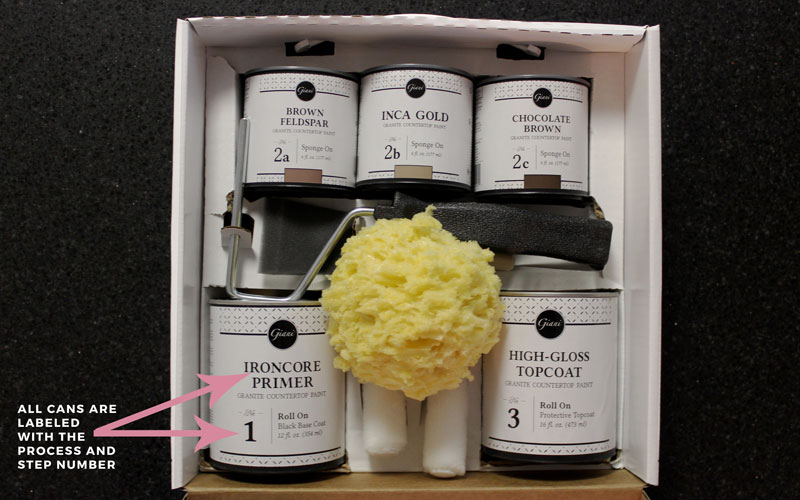 Starting with the backsplash, use the roller to cover two-foot sections. Move to the counter using the same steps. Applying a thin coat.
Working in two-foot sections try to avoid overlap lines.
Wait 8 hours for the primer to dry before moving to Step 2.
Clean your roller disposing of the roller cover.
DIY Granite Countertops Step 2

Apply Giani Granite Minerals
Cut your sponge in half, and then cut each half in half. Leaving you with four fairly equal sponge pieces.
Rub each sponge pieces and shake to remove any debris from the sponges.
Pour a small amount of each mineral color on its own paper plate.
It is recommended that your practice application on the black sheet in the kit before starting on your countertops.
Starting with mineral 2a begin by dabbing (softly, not blotting) on the surface. Again this is done in 2×2 foot sections.
Allowing the black primer to show through.
While 2a is still wet apply 2b to the section as the minerals blend best of done while still wet. Apply 2b using the same motion over 2a. Once complete, move on to 2c.
Once you have done all three colors use the last sponge piece to dab over the paint and blend. Using the dry sponge dab over the area in the same manner.
TIP: After doing all three colors and then dabbing with the dry sponge, I went through with 2a and 2b to lighten the tone a little. My personal preference.
Once each 2×2 action is complete, move to the next section until the entire counter, edges, and backsplash are covered.
TIP: I went through and did the flat surface first and then did the edge. This was so that I didn't mess up the edge while trying to reach parts of the countertop.
Allow drying for 4 hours.
Using #600 grit sandpaper, sand down and smooth surface.
TIP: I used a #400 because my hardware store didn't have #600. I wiped the block in a very light motion across the countertop to smooth the surface.
Wipe with a damp cloth and let dry.
DIY Granite Countertops Step 3

Protect
Shake the can of topcoat before opening.
In this step, you use the provided roller and topcoat to thoroughly cover the countertops.
Working in two-foot sections try to avoid overlap lines.
It is recommended that you do at least 2 coats but no more than three.
Once complete, allow drying for at least an hour.
Remove tape. To avoid paint peel-off score the tape each with a blade and slowly pull tape upwards.
My additional tips from my experience using Giani Granite countertop paint kit
Be sure to move appliances, like your stove and fridge, to allow even application along all edges before starting.
Use dedicated cleaning rags to avoid contaminating the space.
When painting, use fitted gloves to help make clean up a breeze.
Do not allow anything to touch your countertops between steps to avoid introducing substances or dirt on the surface.
Have a damp rag handy in case paint gets somewhere it shouldn't. For me, it was the cabinets and floor. As we did not cover the cabinets and we dropped paint on the floor a couple times.
I applied the first coat of topcoat with the roller. It streaked. So I went and got a lambskin tool like this one here to give it a more even finish for the last two coats.