Easy Orange Pistachio Muffins Recipe
Craving for a little something sweet & nutty? These orange pistachio muffins are the perfect choice to try out! 
The links in this post may be affiliate links.  That means that if you click them and make a purchase, this site makes a commission.  It will have no impact on the price you pay or the experience of your purchase.
Packed with the citrusy flavors of orange and the crunch factor of pistachios, these muffins can be an excellent light sweet treat to reward yourself with on a cheat day, or prepare for your kiddos for breakfast, just in the mood to bake, or for no reason at all.
This recipe is super simple, and you'll just need a handful of ingredients to try them out. But before you go ahead and jump in, here are a couple of tips to help you nail the texture and flavor the first time!
Will Adding Orange Juice Make the Muffins Soggy?
You might be a bit concerned about the fact that the recipe calls for orange juice to be used. Adding in liquid ingredients might seem a bit tricky when you're trying to achieve that pillowy soft texture for your orange pistachio muffins, but don't worry. As long as you follow the recipe, you will be fine.
Remember not to overmix the batter, and to make sure all the ingredients you're using are at room temperature before you start incorporating them into each other. 
How Much Should I Fill the Muffin Cups?
Everyone likes their muffins to be all plump and fluffy and have those perfect domed tops, but that doesn't mean you need to overfill the muffin cups to achieve that.
In fact, doing that could cause the batter to seep across the pan and spill into the oven, causing a big mess that you'll have a tough time cleaning afterward. 
Can I Leave the Orange Pistachio Muffins in the Pan to Cool Down?
Nope!
Not unless you want your orange pistachio muffins to shrink down and become dense and soggy.
Ideally, once you get them out of the oven, transfer them to a cooling rack and allow them to come to room temperature before you indulge.
Letting them stay in the tray itself will cause the residual steam to condense, or even worse, the hot pan will cause the muffins to overcook and become dry and tough. 
Can I Use Old Baking Powder and/or Soda?
One of the most common mistakes a lot of baking enthusiasts tend to make while making muffins, or trying their hands at literally any other baked goodies is that they end up using old or expired baking soda and/or baking powder. It is important to remember that both of these ingredients are leavening agents.
That means they help your baked goodies rise and get that perfect fluffiness, and just like other food items, they lose their potency and magic. 
Don't be surprised if your cookies or muffins turned out flat when you followed everything correctly but just used old leavening agents into the mix. 
Fresh is best!
Ingredients Needed
please scroll down to the full recipe for exact measurements
milk
eggs
butter
orange juice
orange zest
sugar
flour
baking powder
baking soda
cloves
pistachios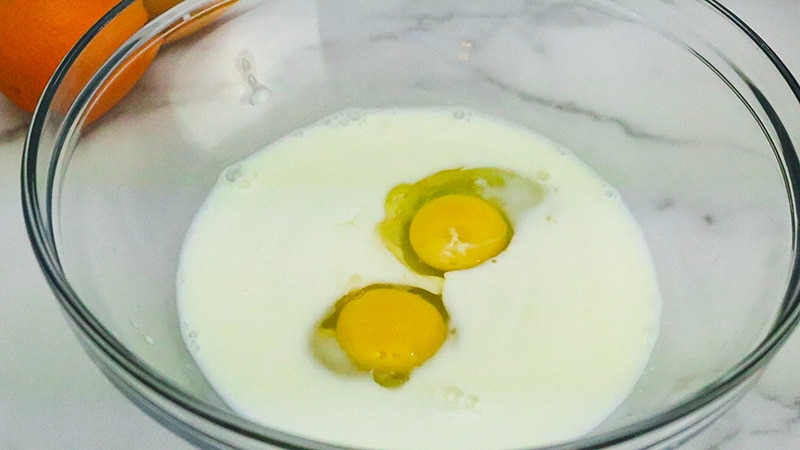 What Happens When I Use Eggs Straight From the Fridge?
You should absolutely let the eggs get to room temperature when baking.
Using eggs straight from the fridge and not allowing them to come to room temperature before you use them for the recipe is one of the biggest mistakes you can make when it comes to baking.
When you allow the eggs to come to room temperature, you get that perfect fluffiness and aerated batter, which will improve the texture of your recipe.
Not to worry, if you're running out of time, you can get the eggs to room temperature quickly by placing them in a bowl of slightly warm water.
How To Make Orange Pistachio Muffins
This recipe is so easy you won't believe it.
All you have to do is, preheat the oven to 350 degrees (Fahrenheit), then mix all ingredients for muffin batter using a hand mixer or stand mixer.
Once the batter is firmed, scoop the muffin batter into greased and floured jumbo muffin tins or liners.
Bake the muffins for 20-22 minutes.   Or until a toothpick inserted into the center of the muffins comes out clean.
And that's it!