A sweet tasty comfort beverage perfect for fall. Pumpkin White Hot Chocolate is a Fall favorite in my house!
Call me crazy but I have never been a fan of regular hot chocolate. When I was younger I loved me some swiss miss. But I probably grew outta of that as I grew into double digits and my mom started letting me have tea.
While coffee has become my preferred comfort beverage on a cool day, I don' t drink it as much as I would like for a couple of reasons. Green tea is my chosen replacement, but when I want something special, I actually prefer white hot chocolate.
White Hot Chocolate is wonderful, like amazingly wonderful. But just when I thought it couldn't get any better, I discovered Pumpkin White Hot Chocolate. And Oh Em Gee this stuff is good!
While I can't take credit for being the creator of it, I certainly have come up with a darn good spin on it!
My daughter has been begging me to make White Hot Chocolate since last fall when we first moved to North Carolina. It seemed like it went straight from blazing hot to just a little cool, also known as winter. And then into Christmas (a.k.a. Eggnog season). Which didn't leave much room, or desire on my end, for making white hot chocolate.
But she got going with the requests and reminders this year early, before the fall even hit. She would go as far as asking random questions that she already knew the answer to about the ingredients. Or even flat-out pointing out the ingredients in the store. So I decided to surprise her with an even better treat – My White Pumpkin Hot Chocolate.
This simple and easy recipe only takes a little bit of time heated over the stove, served up in a nice glass. Cozied up on the couch with a cup of this stuff is the perfect prescription for the cool fall nights.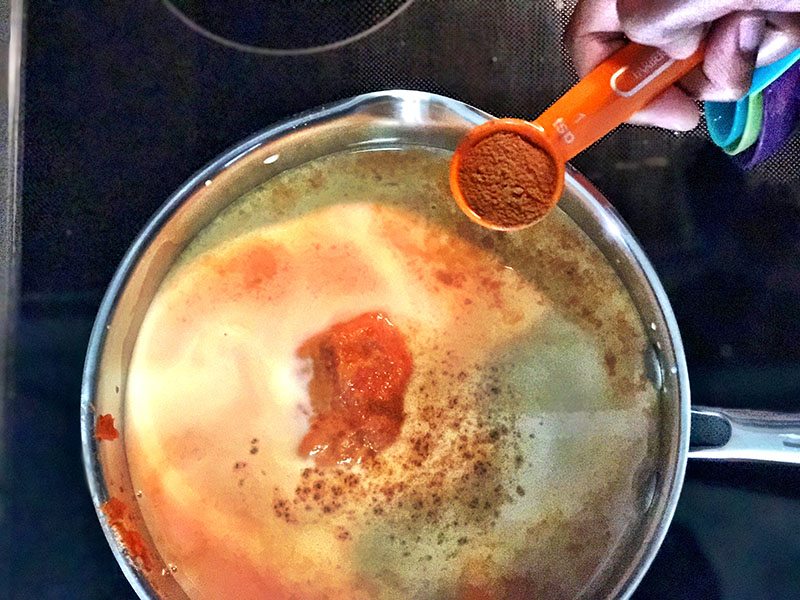 Combine all ingredients except for chocolate chips.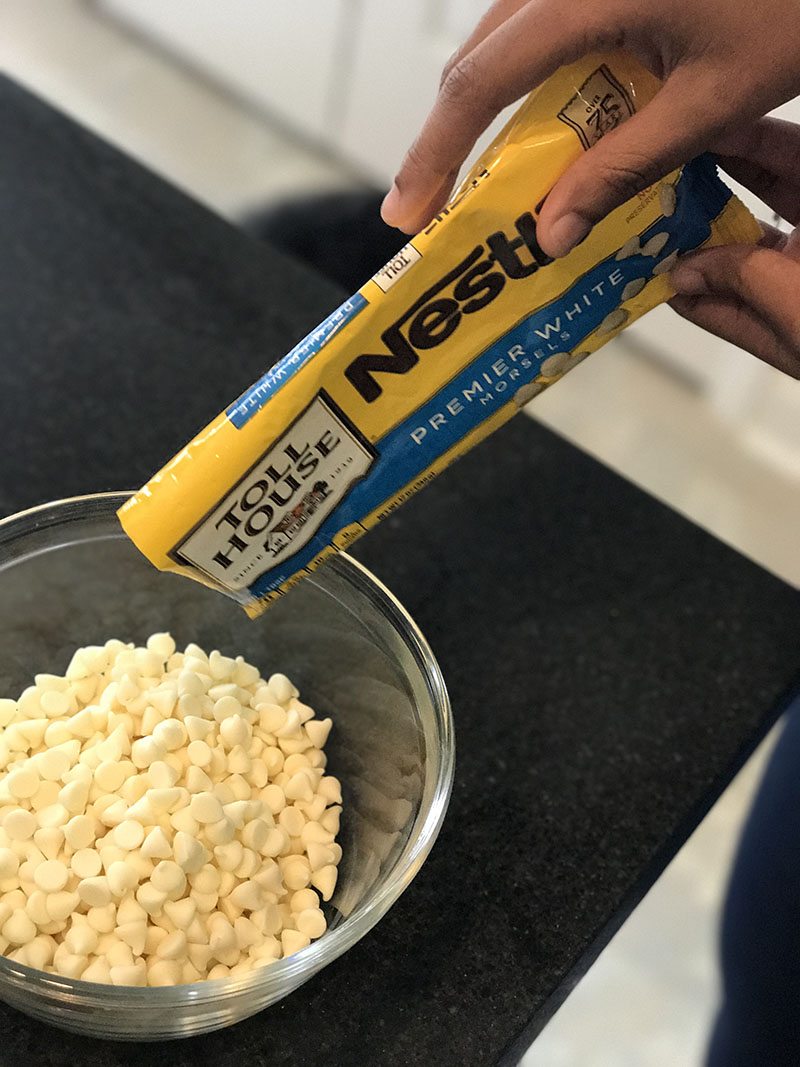 After adding chocolate chips, and stir until smooth and creamy. Then it is ready to be served up with some whipped cream on top!
I think she liked the added surprise!
A sweet tasty comfort beverage perfect for cool fall days!
Click To Tweet
Pumpkin White Hot Chocolate
A sweet tasty comfort beverage perfect for fall.
Ingredients
15 oz can pumpkin puree
1 tbsp vanilla extract
12 oz bag white chocolate chips
14 oz can sweetened condensed milk
4 1/2 cups milk
1 1/2 tsp pumpkin pie spice
whipped cream, for garnishing (optional)
cinnamon sticks, for garnishing (optional)
Instructions
In saucepan, heat milk, pumpkin, condensed milk, pumpkin pie spice and vanilla extract milk over medium high heat on stove.
Whisk occasionally, to keep from sticking to bottom.
When to simmer (not boil) whisk in white chocolate chips until dissolved
Divide among cups and top with whipped cream, sprinkled with a little pumpkin pie spice and garnished with cinnamon stick
Enjoy!
Want to save the Pumpkin White Hot Chocolate recipe to make for later? Hit the Pin Button!
Do you think you might give this a try?
Questions, Comments or Just Want to Say Hey 👋🏽, Drop Me a Line in the Comments.