Fresh fruit desserts have to be some of my favorite treats.
I am almost ashamed to tell you guys that I had never been to a farmers market before last week.  I am especially ashamed because back home in Cleveland, we had what I hear, is one of the best farmer market's in ever.
But I am happy to report that this is no longer a truth that I am holding on to.
Last week, while visiting Asheville, North Carolina, I had the opportunity to check out the WNC Farmers Market.  While I didn't shop because I could not bring any of the things back, I am intrigued enough to commit to going to the local farmer's market here in Wake Forest and checking it out.  And probably buying some stuff too!
As I was strolling through the market checking out all that fruit, I got to thinking about all of the desserts (and breakfast of course) that could be made.
I imagined pies, and cobblers, and everything you could think of.
If you know me, this led me right on over to pinterest to to make a list of desserts  I would love to make so I can see what I would want to buy when I went to the local market.
I thought it only right to share some of my favs with you guys so you can get your fresh fruit dessert lives in order as well.
5 Fresh Fruit Desserts For Your Summer Sweet Tooth
Fresh Fruit Tart with Vanilla Mascarpone Cream
This reminds me of a recipe my mom occasionally makes for summer picnics.  The fruit and the cream together make for a party in your mouth for sure!
See full recipe at Sally's Baking Addiction
Caramel Apple Fruit Pizza
Who doesn't love pizza? And when it's for dessert it is just that much better!
See full recipe at The Gunny Sack
Frozen Yogurt Fruit Bark Recipe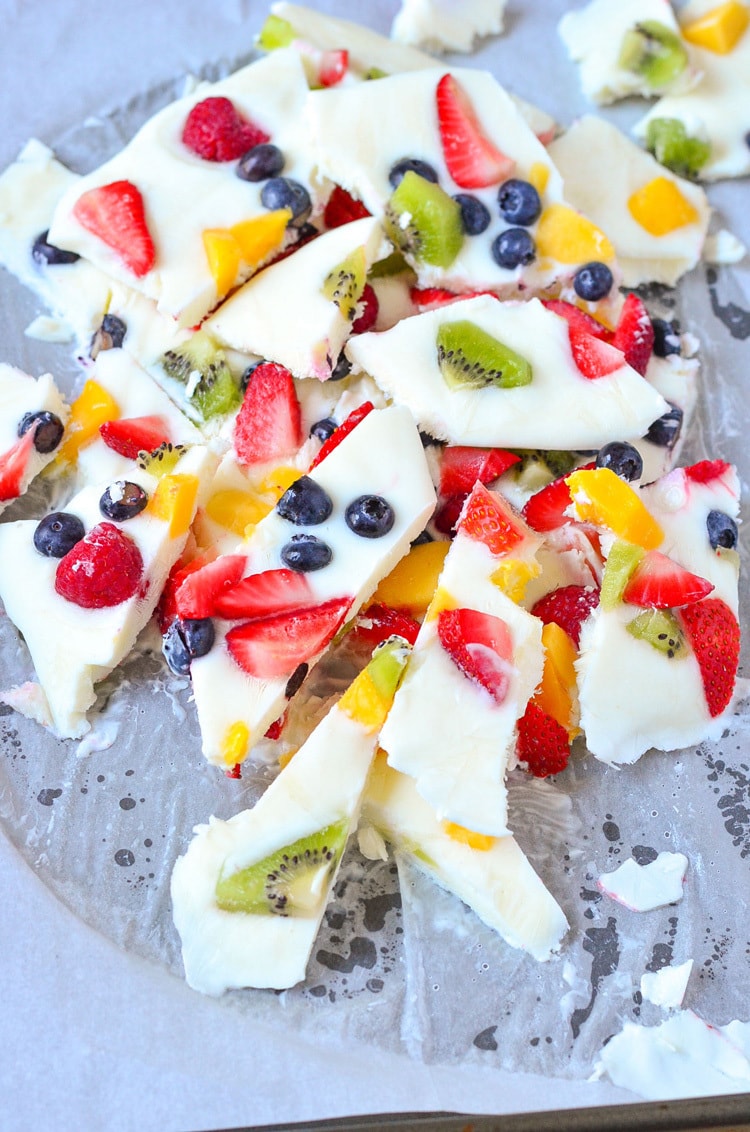 This recipe is as close as you are gonna get to eating healthy and having dessert at the same time.  I normally don't mind the calorie splurge for dessert but I actually should be watching it and I could see me watching this go right in my mouth!
See full recipe at Courtney Sweet's
Pineapple Popsicles
Pineapple? Popsicles? Need I say more.  This would be so appropriate right now in the middle of the smoldering hot heat we are having right now.
See full recipe at Six Sister's Stuff
Super Simple Homemade Dessert Nachos
Y'all have seen my Instagram feed and my love for Taco Tuesday.  This is the dessert of Taco Tuesday (really any day would do) my friends.  Nachos for dinner and Nachos for dessert? Yes, please!
See full recipe at Honest & Truly
I'll be reporting back after my trip to the farmers market.  And you can bet that there will be new recipes birthed from my travels to the market as well.
[clickToTweet tweet="Have fresh fruit and your dessert too!" quote="Have fresh fruit and your dessert too!"]
What are some of your favorite fresh fruit desserts?