This is to share about my experience using Food Blogger Pro.  Not everyone's experience and opinion will be the same.
I've been a foodie for as long as I could remember. But I don't ever remember food photography being a thought.
Back in 2011, I asked my hubby to buy me a DSLR. After getting my wedding photos back I decided I wanted to be able to take pretty photos too.
At the recommendation of my wedding photographer, I went with a canon camera. And shortly after unwrapping my camera from under the Christmas tree I enrolled in photography classes through my local photographic society.
The class was a full scope of photography and shared so much that I was just overwhelmed when it ended. Luckily it allowed you to retake the class as many times as you wanted. Right in the thick of the class, I found out I was preggers with RJ and sitting through an 8 hour class on Saturdays was rough. And while I went every weekend physically, mentally I was not there.
So my camera didn't get much use.
I retook the class a couple years later but I think because I didn't have a grasp on what I wanted to shoot it still didn't click for me.
I've been cooking and making up recipes for years. And blogging for just about as long. But I never did food because I knew my pictures would never reflect just how good my food really was.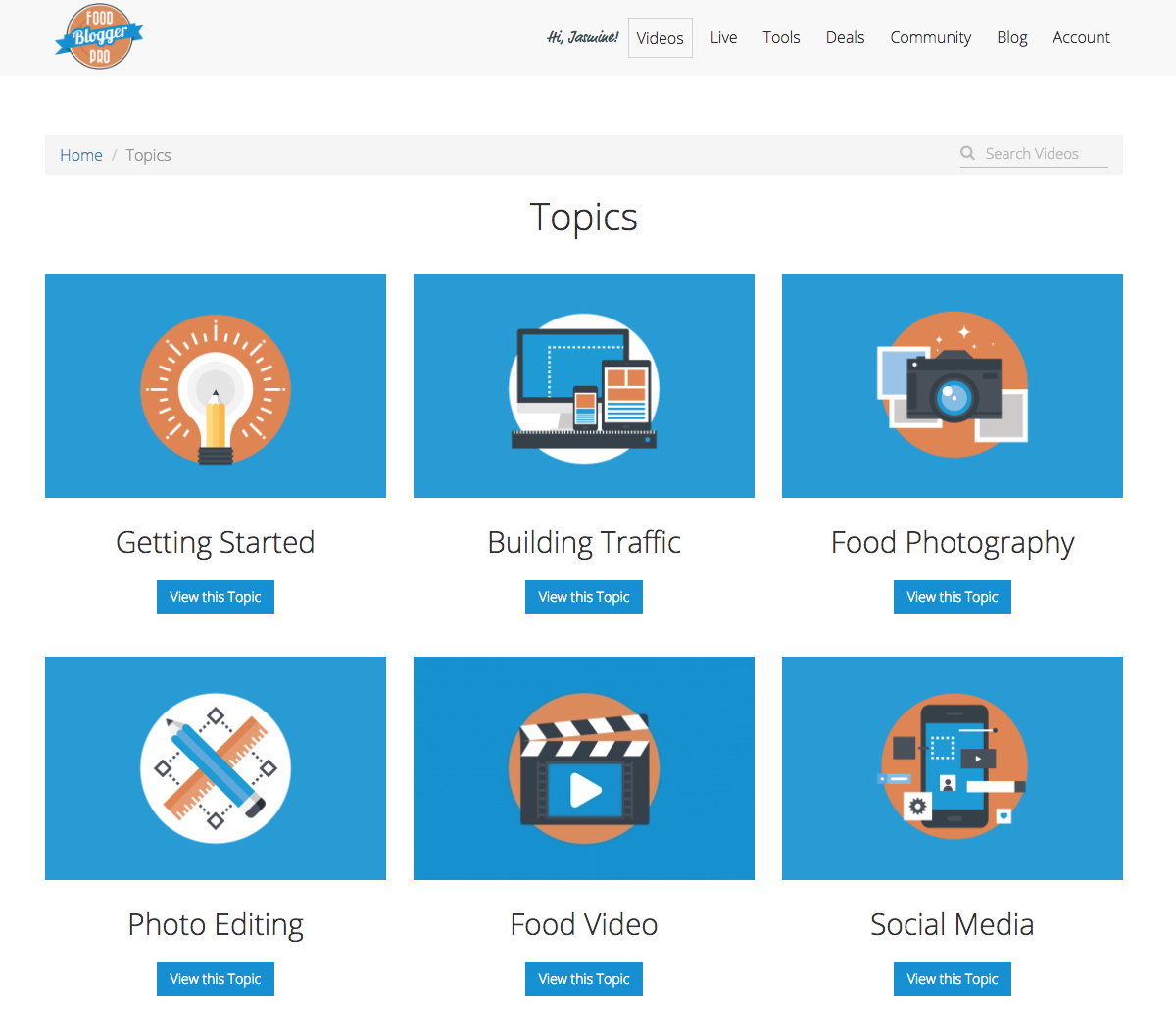 It wasn't until after enrolling in and taking the food photography sessions of Food Blogger Pro that it started to click.
Lindsey, of Pinch of Yum, shared info in relatable digestible doses. I took notes and it made it click because her suggestions and lessons were geared specifically toward the art of shooting food.
As I went through the sessions I practiced taking pictures of food and saw the difference almost immediately.
I was excited about the difference in my photos. So much so that I went through and started redoing old recipes.
Changing out the photos also increased click through on my posts.
Food blogger pro is a subscription geared toward food bloggers but really applicable to all bloggers. With lessons that cover everything from photography, SEO, and recommended plugins. Additionally, there's a forum filled with other bloggers creating a community that is supportive, collaborative and allows you to find your tribe.
While there have been great benefits from my time subscribed to FBP the increase in my food photography has been most notably providing a return for me.
I still have a ways to go, but no longer are the days the I am reserved about sharing the delicious food I cook with the world because of the picture quality.
I am super proud of the progress I have made and glad that I made the investment.
Don't believe me?  Here are a few before and after's…
Before
After
before
after
Crazy, right???
A Few Answers to Some Questions You May Have About Food Blogger Pro
Is Food Blogger Pro Worth it?
I have to give this a strong yes, and here is why:
The monthly fee is reasonable, AND a discount is offered if you pay for the year.
There is loads of information.  Like even things you didn't think you wanted to learn about.
Community!  Blogging can be a lonely gig.  Sitting in front of the computer for most of the time can get a bit lonely, FBP gives you space where other people are doing similar work and can answer questions you may have, create collaborations and so much more.
How are the lessons delivered?

The lessons are in video format, but they are also transcribed.  Which is nice if you are like me and need/prefer to read things.  But the video gives you the visual component that is helpful when you don't understand or need further clarification of what you read.
Additionally, they occasionally hold live workshops which are free or discounted for existing FBP members.  This was how I first found out about Food Blogger Pro.  They held a free workshop on shooting food video.
What are the Pros and Cons?
Pros:
Transparent Info.  I first came across Bjork and Lindsey, the couple behind FBP via Pinch of Yum, Lindsey's food blog.  For many years they shared their income reports detailing how they were making money from blogging and eventually able to make it their full-time gigs.
Tech Savvy.  They know their stuff.  Everything is well put together and executed and to me that increases their credibility when teaching what they do.
For all levels.  There is something valuable for bloggers at any level.  Additionally, while it is geared toward Food Blogging, there is info that bloggers of any niche would find valuable.
Updated regularly.  It was not just created with a set it and forget it method.  The content in FBP is updated regularly which is what would make continuing the subscription valuable.
Significant Information.  There is a wealth of knowledge that is provided within this space.  Which even though you didn't specifically think you needed it, could allow you to expand your thinking and grow your business in ways you hadn't imagined.
Customer Service.  I am big on customer service.  All to often in the digital space I have seen lackluster customer service because people are behind the computer.  This is not the case with FBP.  Any time I reached out with a question or concern, I got a thorough and prompt response, usually within 1 day.
Cons:
The forum can be a bit overwhelming.  The forum is a great space to connect with other community members and bloggers.  But it can be a bit overwhelming to navigate.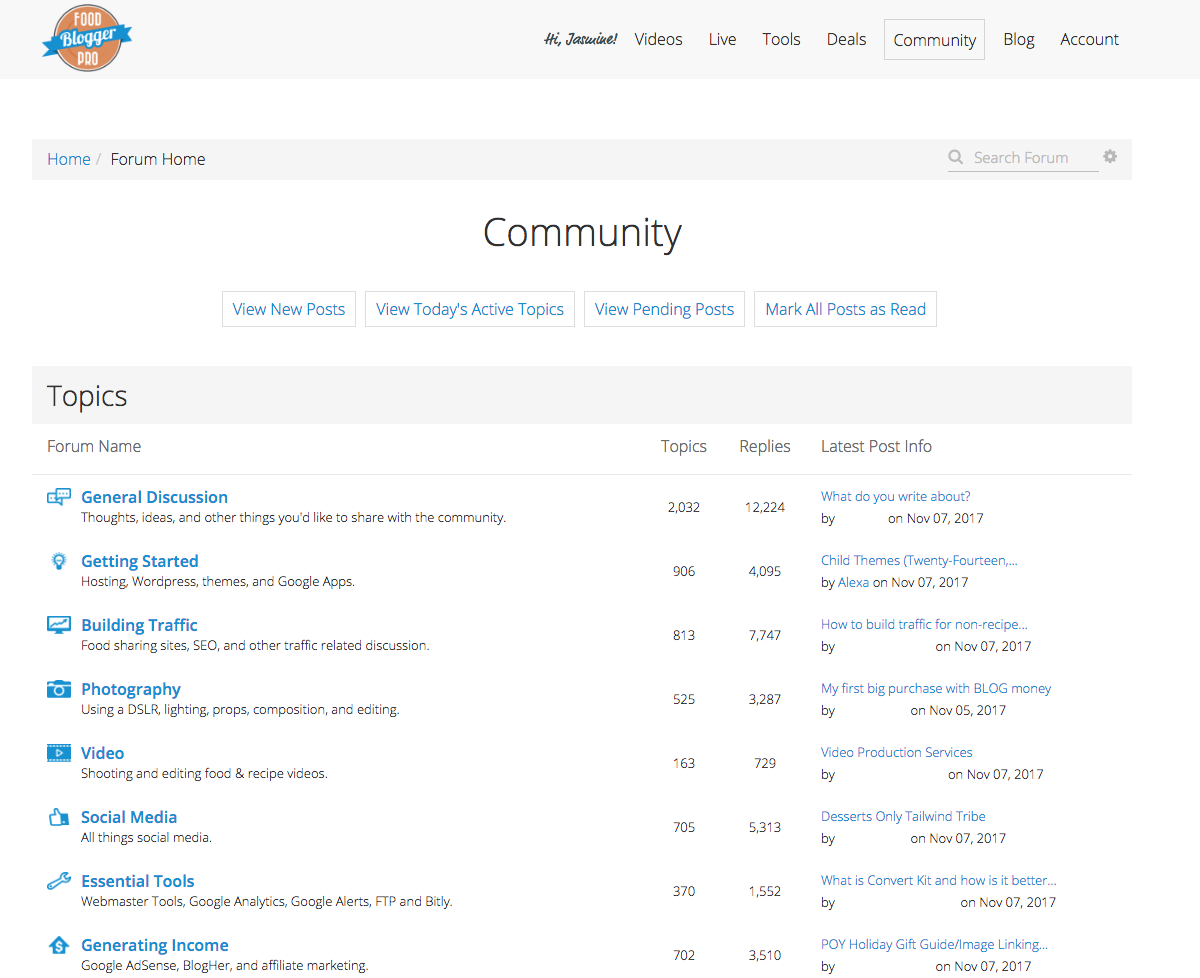 Notifications.  I wish there was an app that allowed you to be notified of forum responses and such.  which would be nice to keep up dialogue in the forum.
Monthly subscription.  If you are like me, you are tired of the monthly fee associated with everything, as it all adds up.  I stand by my original statement that it is worth it, and it is also worth noting that you can cancel at any time.  It is also worth noting that with the amount of knowledge, information, and the community that is created with FBP, there really is no "one-time price" that most bloggers could afford tog ain access.
Enrollment.  Food Blogger Pro is only available at certain times throughout the year.  So you may be reading this and thinking, "yes!! I need to have that".  If it is not during open enrollment, you can join the Food Blogger Pro Waiting List in order to be notified when enrollment is open again next.

I think that about covers it!  If you are interested in Food Blogger Pro, I hope this helps you to make an informed decision. And if you needed an extra push, here are coupon codes to get you started.
Other Posts You May Find Helpful: